ABOUT US
WAR HEROES & ALUMNI
We salute the brave leaders of men, who with true grit and unrivalled gallantry led from the front of land, sea and air to strike terror in enemy heart and carved out victories against all odds. They made the supreme sacrifice when called for and died defending the honour and integrity of the motherland. Their saga of sacrifice will remain etching in letters of red and gold in the annuals of our nation's history. Theirdeeds are stuff that legends are made of and their followers legion. Every cadet epitomizes the exemplary virtues displayed by their real life heroes. A grateful nation salutes its heroes and rejoice the passing of the mantle to future warriors…
1. Capt Manoj Kumar Pandey, PVC (Posthumously)
It was July 3rd 2008 and the sky was overcast. Upsainians around Delhi were asked to gather by India gate. Till the time the cadets could get together it started raining and drenched all. Yet, once the candles were lit everyone was overwhelmed and engulfed with the Upsanian spirit. It was on the very same date in the year 1999 when Kargil war was at its peak and bullets and shells were raining all across the mountains. Leading the jawans was a young captain of 1/11 Gorkha Rifles who had been defying death and had a close brush with it on four earlier occasions. The destiny however, had charted another course for him. In one of the enemy bunkers he killed three Pakistani soldiers however, one of the bullets pierced through his forehead and he left us all for the heavenly abode. This young captain was none other than Captain Manoj Kumar Pandey who for his valour was accorded with the highest bravery award " Param Vir Chakra". He is the guiding light to not just the cadets of the school but the whole nation. Manoj Pandey belonged to the 1987-93 batch of school.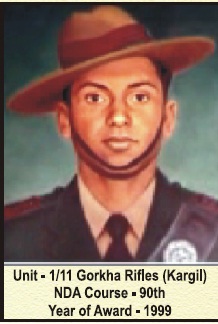 2. Capt Sunil Chandra, Vr C (Posthumously)
On the October 17, 1987 Sainik School lost a very courageous ex-cadet, Captain Sunil Chandra of 8 Mahar regiment in Sri Lanka. Capt Sunil Chandra on 16/17 October 1987, headed a squad consisting of ten men, to deliver much needed ammunition for a besieged company. All soldiers of the company had exhausted their ammunition during the pitched battle with LTTE militants. The company was surrounded by militants in a tight cordon. The squad led by Capt. Sunil Chandra was ambushed twice en-route by LTTE militants wherein they lost two soldiers. The squad, however, continued their mission to reach company's location. Heavy battle and firing ensued. Capt Sunil Chandra personally delivered ammunition with little care for his own life. Entire company was saved by the gallant action of Capt. Sunil Chandra and the remnant members of his team. But, during the mission, he was hit by a burst of medium machine gun (MMG) fire and laid down his life in the befitting tradition of making supreme sacrifice. For his dauntless action he was awarded Vir Chakra (posthumously). Sunil Chandra belonged to the 1973-79 batch of school.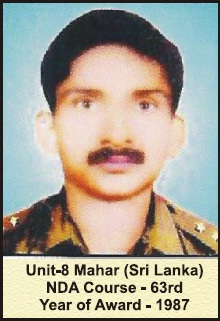 3. Maj Salman Khan, SC (Posthumously)
The 27 year old, popularly known as sallu among his friends and colleagues, displayed tremendous courage in fighting the militants. Perhaps, God had whispered to him about this as his father tells. "He just had months left for his tenure in Kashmir and while going back to his unit from Kanpur he had requested his classmate Manish Srivastava to pray for him so that he might get Shaurya Chakra before leaving Kashmir" he says. It happened true and Salman's wish was granted but only after God called him to his abode and left the family and the school bereaved. Salman Khan belonged to the 1989-95batch of school and his school No. is 1576.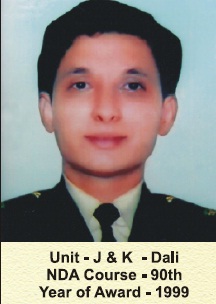 4. Col K J Singh, SC, SM
5. Maj Amia Kumar Tripathi, SM
6. Col Siddharth Tiwari, SM
7. Flg Officer Animesh Srivastava
8. Fly Officer M S Pawar
9. Flt Lt Mayank Mayur
10. Sqn Ldr Atul Tripathi
11. Flg Officer Sankalp Tiwari
Alumni who rose to the rank of Maj Gen/ Equivalent and above The school fed more than 815 Cadets to NDA and having produced several worthy officers for defence forces. 23 of its cadets as given below rose to the rank of Maj Gen/ equivalent and above.
(a) Lt Gen Anil Chait, PVSM, AVSM, VSM:
Lt Gen Anil Chait, PVSM, AVSM, VSM was commissioned into Armoured Corps in Dec 1973. He raised the Special Action Group (The Black Cats) of the National Security Guards where he was awarded the VSM. An alumnus of Defence Services Staff College, Wellington, the General Officer has served in the perspective planning directorate and MS Branch where he was awarded COAS commendation. He commanded an Armed Regt, an Independent brigade and an Inf Div where he was instrumental in successful organisation of 4th Military Word Games. Besides being an instructor in the prestigious DSSC Wellington, he has the proud distinction of attending the US Army War College. In the appointment of ADG (D&V) at Army HQ, he was intrinsically involved in developing facts of human resources pertaining to transformation of Indian Army 2020. Before the present appointment of CISE IDS, HQ MoD(Army) Gen Chait was GOC-in-C, HQ Central Command.
(b) Lt Gen A K Misra, AVSM:
Lt Gen Anil Kumar Misra, AVSM was commissioned in the Regiment of Artillery in Dec 1974. He commanded 4 (Hazara) Mountain Battery (Frontier Force) and was the commander of 3 Artillery Brigade in Ladakh and Siachen. He has held stints of instructor at IMA Dehradun and colonel Instructor Tactical Wing, School of Artillery Devlali. Some other prestigious appointments held by the General Officer are Col Q, Lucknow Sub Area, Dy MS (Arty) at Army HQ, MG, IC Adm at HQ Eastern Command ADG (D&V) and DG (MP&PS) at Army HQ. After completing his tenure as Chief of Staff, HQ Central Command, the General officer is presently posted as Commandant, School of Artillery, Devlali.
(c) Vice Admiral Paras Nath, VSM:
Vice Admiral Paras Nath joined the school in 1965 and passed out in 1969. The Admiral joined N D A in June 1969 along with the 42nd Course. The Admiral was commissioned in the Indian Navy on 01 Jan 74 in the erst while Supply and Secretariat branch and later joined the Logistic cadre in 1982. The Officer, during the distinguished career spanning over 35 years, has held various key appointments both onboard ships and ashore. He has unique distinction of having commanded IN Ships 'Bulsar' and SDB T-54. While commanding SDB T-54 the Admiral was actively involved in Palk Bay Patrolling during Op Pawan. The Admiral is an alumnus of Defence Services Staff College, College of Defence Management, and National Defence College.
(d) Lt Gen (Retd) Prem Krishan Goel, PVSM, AVSM, VSM:
Lt Gen P K Goel, AVSM, VSM was commissioned into the Regiment of Artillery in Dec 1970. He is an alumnus of NDA, Khadkwasla.In a distinguished career spanning around four decades the General has served in high altitude, Highly Active Field Area (HAFA), Counter Insurgency operations and also held various prestigious Staff and Command appointments. The General is a graduate of Defence Services Staff College. Besides having attended the prestigious courses of Higher Command and National Defence College. He has also attended a prestigious Course at Frunze Military Academy of Moscow. Lt General Goel commanded an Artillery Regiment, and the prestigious 1 Artillery Brigade. He has held the important appointments of Additional Military Secretary (B) at Army Headquarters and Instructor at School of Artillery.
(e) Lt General (Retd) V K Chaturvedi, PVSM, AVSM, SM:
The general studied at U P Sainik School from 1962 to 1967 before his selection for the 38th NDA course at National Defence Academy. He was commissioned into the regiment of Arty in Jun 1971. He is an alumnus of LGSC, service Staff College and LDMC. During the distinguished career spanning over 38 years, he has served in different capacities in command, staff and instructional assignments. Some of the important appointments held by the general officer are comd of a field regt in Op Rakshak in J & K, Commander on an Arty Bde in strike corps during op Parakram, Director WE-5, Brig IC adm of HQ 16 Corps, Additional Director General of artillery HQ and DG (MP&PS) at Army HQ New Delhi.The general officer was awarded the Sena medal for gallantry in 1971 Indo Pak war.
(f) Vice Admiral (Retd) Ganesh Mahadevan, AVSM, VSM:
Vice Admiral Ganesh Mahadevan joined the Indian Navy as a cadet (38 NDA) and was commissioned on 01 Jan 1972.The Flag officer did his Basic Engineering Course at INS Shivaji and advanced Electrical course at INS Valsura. He is an alumnus of the National Defence College (42 NDC).He has served in various capacities including five appointments at Naval Headquarters. He has served Directorate of Weapon Engineering (DWE), Directorate of Electrical Engineering (DEE) and Directorate of Information Technology (DIT). During his appointment as Assistance Chief of Material (Information Technology & Systems), the Flag Officer was involved in various weapons and IT projects of national interest. The flag officer has been serving as Chief of Material since 01 Jan 09.
(g) Maj Gen (Retd) AK Singh:
Maj Gen AK Singh was commissioned into 64 Cavalry on 14 Nov 1971. He is an alumnus of NDA. In a distinguished career spanning around four decades, the general officer has held a no of prestigious command, staff and instructional appointments to include CO 64 Cav, Cdr 5 Sect RR, GOC 27 Mtn Div, Col GS HQ 4 Inf Div, Dir (CT) HQ LDS, MA at embassy of India at Mascow and Commander SC Wing, Army War College.
(h) Alumni Civil Dignitaries:
Some of the ex-cadets who are excelling in different fields and have earned honourable places for themselves are as follows:
(a) Mr Harsh Vardhan – Member of Parliament
(b) Mr Shashank Shekhar – Cabinet Secretary, Govt of UP
(c) Mr Sudhanshu Dhulia – Justice, High Court, Uttarakhand
(d) Mr AN Das, IAS – Joint Secretary, Department of Irrigation, Govt of Andhra Pradesh
(e) Mr Ashutosh Shukla, IPS – IG, CRPF Directorate, New Delhi
(f) Maj (Retd) Sanjay Yadav – Information Commissioner, UP
(g) Mr Jagdeep Rai – DRM, Northern Railway
(i) Mr Harsh Vardhan, MP:
Sri Harsh Vardhan belongs to the first batch of the school which joined in 1960. He has an illustrious political career of three decades and is presently Member of Parliament from Maharajganj. He was elected for 15th Lok Sabha in 2009.
(j) Honourable Justice Sudhanshu Dhulia, Justice Uttarakhand High Court
Sri Sudhanshu Dhulia was born on 10th August, 1960 in a small Cantonment Town of Lansdowne in Pauri Garhwal, Uttarakhand. He is the son of Late Sri K.C. Dhulia (Judge, Allahabad High Court) and grandson of Pundit Bhairav Dutt Dhulia, freedom fighter. He started his practice before the Allahabad High Court in the year 1986. On the creation of the new State of Uttarakhand, Sri Dhulia became its First Chief Standing Counsel. He was later appointed as the Additional Advocate General. In the year 2004, he was designated as a Senior Advocate by the Uttarakhand High Court. On 01.11.2008, he was elevated to the Bench and took charge as Judge, High Court of Uttarakhand.
(k) Mr AN Das, IAS
Belonging to 1971 batch of the school, Mr AN Das joined IAS in 1986. He presently is holding the appointment of Joint Secretary, Irrigation with the Govt of Andhra Pradesh.
(l) Mr Ashutosh Shukla, IPS
A brilliant student of his time, Mr Ashutosh Shukla belongs to 1971 batch of the school. Selected to IPS in 1986, he is presently posted as IG at CRPF Directorate at New Delhi.
(m) Maj (Retd) Sanjay Yadav
Belonging to June 73 batch of the school, he joined NDA (63rd course) in 1979. He was commissioned into the Regt of Arty in 1983. However, due to some personal problems, he resigned from the army and entered the portals of politics. He was appointed Information Commissioner, UP in Dec 2006.